The new replay experience
IP-based live replay and highlights solution  
LSM-VIA offers unprecedented usability, flexibility, speed and control for all your live operations. Designed in close collaboration with our community of EVS operators, LSM-VIA lets you tell the story you want with more functionalities and fewer keystrokes. Working together with the XT-VIA server and interacting seamlessly with all other VIA products, the new replay and highlights solution opens up exciting new workflows and provides faster and direct access to all the content on the network. And with full IP connectivity and software-defined technology onboard, LSM-VIA ensures you're ready to address all future live production expectations.
Product benefits 
Operator usability 
Better ergonomics, a new integrated touchscreen, and direct access to functions in a customizable layout allow you to create your replays and highlights with a level of intuitiveness that is second to none. 
Greater flexibility and scalability 
By interacting seamlessly with other EVS solutions in the VIA microservices ecosystem, LSM-VIA opens up flexible new workflows that adapt perfectly to each production and scale as you need. 
Speed up your operations 
Get access to more functionalities, faster, thanks to the remote's programmable buttons, shortcut functions, simple tactile control and semi-automated functionalities. 
More control 
Manage and visualize content through the remote's integrated touchscreen, and a second viewer that acts as an interface to the whole VIA production environment. 
IP connectivity 
With native IP connectivity onboard, you can assign channels more dynamically for maximum flexibility and connect to any server on the network, benefiting from direct access to content on the network. 
Key features 
Proven reliability and reactivity

Multicamera ingest and playback

Slow motion and super slow motion replay control

Highlight editing tools

Seamless integration into VIA ecosystem

Full IP connectivity

Direct access to network content

New functions enabling new workflows

Familiar controller design with streamlined ergonomics
Components
LSM-VIA remote 
Live slow motion remote controller 
Streamlined ergonomics

Programmable buttons

Direct access to functions

Intuitive touchscreen panel

Customizable layout

Semi-automated control
XT-VIA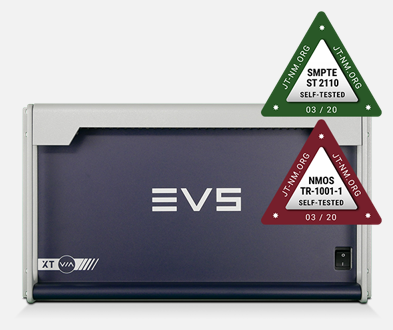 Live production server 
Onboard storage for hundreds of hours of content

Enhanced channel density with SLSM configurations

Native IP support for SMPTE standards (ST 2110, ST 2022, NMOS) and EMBER+

Embedded IP Multiviewer with external inputs and tally support

Mix of 1080P/UHD4K on one server with upscaling

Native codec support like XAVC-I, DNxHR, DNxHD, Prores

XNet-VIA 10G EVS network connectivity
Thin client 
Thin client for viewer application 
Mountable anywhere 

Enrich clip metadata

Fast browsing and selection

Playlist management and editing