The new replay experience

ntc

0 1510

2020.05.27 12:57
IP 기반 라이브 재생 및 하이라이트 솔루션  
LSM-VIA는 모든 라이브 작업에 뛰어난 가용성, 유연성, 속도 및 제어 기능을 제공합니다. EVS의 실제 운영자들과 긴밀히 협력하여 새롭게 설계된 LSM-VIA는 보다 많은 기능을 보다 적은 키 입력으로 운영이 가능합니다. 본 리모트는 XT-VIA 서버와 함께 작동하고 다른 모든 VIA 제품과 원활하게 상호 호환이 가능하며, 새로운 리플레이 및 하이라이트 솔루션은 새로운 워크플로우를 통해 네트워크의 모든 컨텐츠에 대한 빠르고 직접적인 작업을 제공 합니다. 또한 완전한 IP 연결과 소프트웨어 기술을 탑재한 LSM-VIA는 완벽한 실시간 프로덕션을 실현 시킬 것입니다.
Product benefits 
Operator usability 
Better ergonomics, a new integrated touchscreen, and direct access to functions in a customizable layout allow you to create your replays and highlights with a level of intuitiveness that is second to none. 
Greater flexibility and scalability 
By interacting seamlessly with other EVS solutions in the VIA microservices ecosystem, LSM-VIA opens up flexible new workflows that adapt perfectly to each production and scale as you need. 
Speed up your operations 
Get access to more functionalities, faster, thanks to the remote's programmable buttons, shortcut functions, simple tactile control and semi-automated functionalities. 
More control 
Manage and visualize content through the remote's integrated touchscreen, and a second viewer that acts as an interface to the whole VIA production environment. 
IP connectivity 
With native IP connectivity onboard, you can assign channels more dynamically for maximum flexibility and connect to any server on the network, benefiting from direct access to content on the network. 
Key features 
Proven reliability and reactivity

Multicamera ingest and playback

Slow motion and super slow motion replay control

Highlight editing tools

Seamless integration into VIA ecosystem

Full IP connectivity

Direct access to network content

New functions enabling new workflows

Familiar controller design with streamlined ergonomics
Components
LSM-VIA remote 
Live slow motion remote controller 
Streamlined ergonomics

Programmable buttons

Direct access to functions

Intuitive touchscreen panel

Customizable layout

Semi-automated control
XT-VIA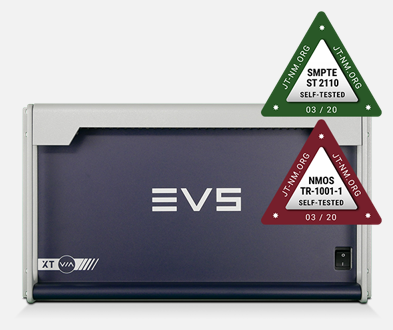 Live production server 
Onboard storage for hundreds of hours of content

Enhanced channel density with SLSM configurations

Native IP support for SMPTE standards (ST 2110, ST 2022, NMOS) and EMBER+

Embedded IP Multiviewer with external inputs and tally support

Mix of 1080P/UHD4K on one server with upscaling

Native codec support like XAVC-I, DNxHR, DNxHD, Prores

XNet-VIA 10G EVS network connectivity
Thin client 
Thin client for viewer application 
Mountable anywhere 

Enrich clip metadata

Fast browsing and selection

Playlist management and editing